This is part of an RSLogix 5000 Tutorial.
The process I suggested for mapping your inputs was rather long and drawn out because we needed to deal with the problem of asynchronous I/O. The problem arises because inputs are under the control of physical processes (electricity) and communication processes (the backplane communication) that we don't have control over.
Outputs, on the other hand, are completely under our control. That's why I recommend a simpler approach for setting up your outputs. Where we created a distinct tag called LI01 to hold the internal state of our inputs, I suggest creating an alias tag, LO02 that aliases the existing tag Local:2:O.Data that was created when you added the output card. Just remember to add descriptions to each bit (LO02.0, LO02.1, etc.). Here's how I've configured the LO02 tag in the Controller Tags: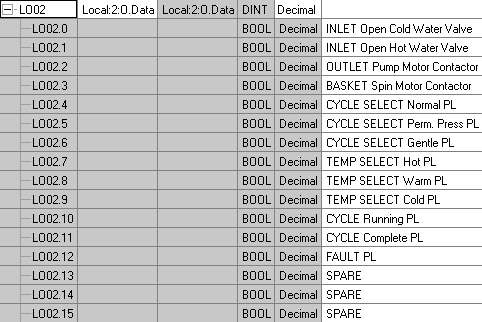 That's it! This method has two advantages: it's fast, and it allows you to right click on any output in your program and force it directly without having to do a cross reference. The asynchronous nature of the outputs won't bite you as long as you only ever drive each output from a single coil (which is a good idea anyway, for readability).