RSLogix 5000 Tutorial
This is a free introductory tutorial on how to create an automation program for a ControlLogix or CompactLogix processor using the RSLogix 5000 programming environment from Rockwell Automation.
If you would like to follow along with the tutorial, Rockwell Automation has graciously offered a 90 day demo of RSLogix 5000 as a free download. It's fully functional, except it won't communicate with a real PLC.
The tutorial explains how to write the automation program including the ladder logic and sequential function chart for a domestic washing machine. I chose a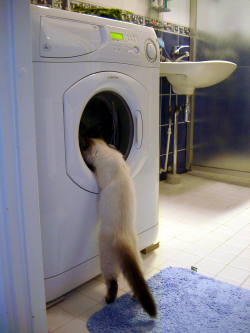 washing machine because it's quite simple, and it's something that everyone is familiar with. I should, however, note that you would never put an industrial controller into a domestic washing machine, and you probably wouldn't ever use a servo motor for the agitator, but I wanted to demonstrate a little motion control as well. I have heard that newer washing machines actually have VFD control, but I admit that servo control is overkill.
I also don't have any real knowledge of how a washing machine works internally, other than using my imagination, so please don't use this as a reference if you happen to be designing, programming, or building a real washing machine!
Tie the automatic sequence logic to the outputs
If you're interested in reading more about Ladder Logic Programming, please have a look at these Ladder Logic Design Patterns.
If you're interested in some alternative control systems, make sure to check out my TwinCAT 3 Tutorial.
15 comments